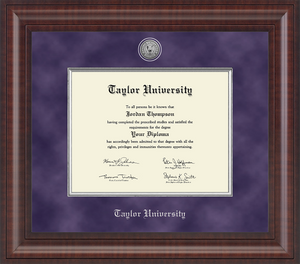 Our Presidential Edition features a silver engraved medallion of your school seal set into an archival-quality purple suede mat.
This edition is enhanced with a silver wood fillet and framed in Premier moulding with a generous Empire profile and an English chestnut finish.
This frame fits an Associate's, Bachelor's or Master's degree.
Document Size: 8.5"h x 11"w
Approx. Overall Frame Size: 18.9"h x 20.9"w